KC Film Spotlight: Stellar Image Studios (SIS)
Immediately the "the sister song" from one of my favorite books-turned-film, The Color Purple, jumps to mind when I think of Amber and Jasmine Baulder because they are the sisters behind "SIS," the aptly named production company in KCMO, Stellar Image Studios.
I had the chance to meet Jasmine before the COVID-19 shutdown occurred. SIS had recently moved into a new office and a great feature was written about it in the KC Business Journal. Now that the city is opening back up, we wanted to circle back with her and ask a few questions to get to know SIS better.
---
I met you, Jasmine, co-owner of SIS through an introduction from Butch Rigby who is one of KC's long time film advocates but also a real estate mogul. How did you meet Butch? 
Butch and I met through a mutual acquaintance. I had read about his East Brookside redevelopment projects in the Kansas City Business Journal, and I made it a point to meet him. My sister Amber, who co-owns SIS, and I both live in East Brookside, only four doors apart. In the early year, we worked out of our respective homes. We quickly outgrew this arrangement and set out to find nearby office space in the place we love: Brookside.
What is your space like and how does it support the creativity of your team at SIS?
Our space is open and modern, perfectly suited to a video studio. Furniture is on wheels, allowing flexibility for shoots. White walls provide a "blank canvas" backdrop. North-facing floor-to-ceiling windows offer brilliant daylight and a vibrant energy. We do a lot of in-house photography and team videos in our space. This environment has allowed creativity to flourish. We produce more content together and constantly share ideas. Team morale is sky high!
Speaking of team. Tell us about yours.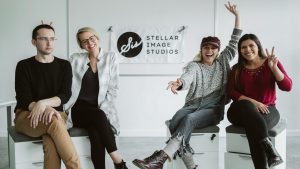 Stellar Image Studios is built on a foundation of trust and reliability. And it all begins with the team. The amount of work we are able to accomplish, even in the face of great adversity, is a testament to how dedicated and hardworking the entire team is. SIS is a small but mighty group of four employees and a legion of outside freelancers and contractors – the best and brightest creative talent in Kansas City. SIS team members include a Producer (Jasmine), Director (Amber), Motion Graphics Artist (Stone), and Video Editor/Camera Operator (Cassie). Each has a special skill-set, and together we operate as a highly-functioning team. Best of all, we have fun together! There is energy and humor, but never a dull moment. SIS is my second family.
You and I kept in touch during the COVID-19 shut down. What was that time like for SIS? How did you move forward while at a stand still?
SIS has faced many of the same challenges as other small businesses, and perhaps a few more because our company is so new. But we have never been at a stand-still. As soon as the crisis hit, we put our heads together and devised a strategy to not only survive, but to thrive. We came up with no less than five initiatives to serve existing clients and attract new customers, all while carefully observing pandemic restrictions: I-Phone compilations; virtual-style interviews; motion graphics/animation; live-streaming of events; and re-purposing of archived footage. These options have proven popular with our clients and have helped us attract new business. We have also maintained a sense of normalcy by continuing strategic planning
meetings and even Book Club sessions, often virtually. And we decided to move forward with On Stage with SIS, the annual music event we host to promote emerging artists. Performers were originally scheduled to appear live at the Buffalo Room in Westport. The program will now appear on YouTube and Facebook Live,June 13 at 7 p.m. It's free, and all are invited, but viewers are encouraged to register on our Eventbrite page. When you register, you are entered into a $25 amazon gift card!
Tell us about about some of the work / projects you are proud of?
My personal favorite is the video SIS produced for VisitKC, for the "KC on KC" series about live music. We have a special passion for local musicians. Having the opportunity to tell their story while showcasing our vibrant city was incredible. Amber is most proud of the recent video we did for AltCap. She says, "due to social-distancing, we had to think of new ways to capture interviews. We switched to doing virtual interviews by recording Google Hangouts through a software program called Snagit. This was a challenge, but we accomplished our mission to highlight how small businesses were able to receive critical funding through this not-for-profit organization." Cassie is especially proud of a project she spearheaded for City Year. "This video is the first project I took head-on, and we did something new in the editing. The client ended up loving it. It showed me that you can take risks in your editing." Stone says, "We are proud of all the work we have put into our special event, On Stage with SIS. The fact that we were able to bring work to local Kansas City artists during a time when they have few or no platforms to perform on is something we are very proud of."
Why open SIS – what's the story?
Amber and I have always been close. Part of our sisterly bond was communicating telepathically through the vents in our Omaha home! In Amber's senior year of college, she was selected, with only  ten other classmates, to participate in The Global Eyewitness Project. This honor enabled her and other young filmmakers to venture into third-world countries and film compelling stories about vital issues. The group was mentored by National Geographic representatives, given Canon Mark III cameras, and sent out on their own to find "a story worth telling." Amber lived in Katmandu, Nepal, and filmed a woman who was sold by her mother when she was 12. This moving documentary opened her eyes to the power of video. After college, she worked as a videographer for a security franchise company. I earned a degree in international business. I cut my teeth in the corporate and non-profit worlds, but always held a strong entrepreneurial spirit. A mentor encouraged me to partner with Amber in launching a video production business, an enterprise that best uses Amber's creative vision and my business acumen. The rest is history. SIS has enjoyed remarkable growth, and has earned a proud reputation for delivering projects on time and on budget.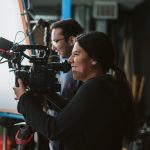 What's next for you guys?
"We've Only Just Begun" could be a theme song at SIS! We see a bright future by carefully managing ongoing growth. Our goal is to produce more projects for our existing clients, and to strategically take on new clients. Our most important mandate is to make sure every client receives the highest level of service and commitment. In time, we may consider opening a branch office in Omaha, or even acquiring another production company. Until then, we will continue to provide what has worked best for our clients: great video!
Thank you, Jasmine, for telling us more about Stellar Image Studios. We love having a women-owned production company in Kansas City. We think you and SIS are great and we wish you continued success as you continue to grow in Kansas City!