KC Film Spotlight: Brent & Donna Jones and Film "Bobbi Jo – Under the Influence"
I meet so many cool and talented people through my job at KC Film Office like Brent and Donna Jones. I love their vibe and how much they care about giving back to society through the lens of film-making. We happen to know a lot of the same people but I've not had the pleasure of meeting them in person. While they are gearing up for their film project "Bobbi Jo – Under the Influence" to have it's premiere screening in Kansas City at Boulevard Drive In September 16, I thought we could get to know them better in our September Spotlight. Enjoy!
Tell  us about yourselves as filmmakers – what kinds of projects have you done/been drawn to?
We are a husband and wife team.  I am originally from KC and grew up making commercials here, shooting games for the KC Chiefs, and jumping on movies that came through town. I moved to Los Angeles a couple of years out of high school and made my way as PA, Camera Assistant and Key Grip. Some of the most memorable and exciting projects were Jurassic Park, Jerry McGuire, Minority Report, and War of the Worlds. While working on films, I was always building a commercial Director's reel with my friends.  When Donna and I met, she became my Producer and my partner in crime.
We made commercials for a number of years, successfully landing some long term gigs with great clients, but we were always thinking, "We gotta make a movie, we have to make a film! How are we going to make this happen?"
In 2017, Donna and I moved back to KC to be closer to family.  We immediately began looking for a great story that we could shoot in the heart of Kansas City.  We started reading all kinds of scripts: drama, comedy, horror, and even musicals. Next, we poured through KC history books.  Where were the great stories? Hemingway working at the Kansas City Star? Satchel Page? Walt Disney? Maybe Tom Pendergast?  Then reality set in:  We didn't have the budget for a period piece!  After pouring over ideas for months (over a year, actually), we needed something to fall in our laps.  Where was the honest, authentic, Kansas City narrative we were looking for?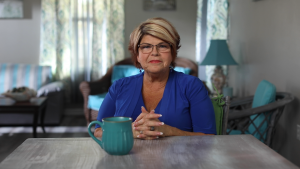 And then you found Bobbi Jo. How did you find her or find each other?
A friend of ours told us about this woman named Bobbi Jo who runs Healing House, an addition and treatment center in Northeast Kansas City. He said she was very inspiring and speaking at a local community center and I should hear her story. I showed up and was absolutely blown away by her testimony.
She talked about her alcoholism that led to prostitution, abuse and living on the street.  Her journey over 24 years of addiction was horrific.  Through her own recovery process she began helping other women get off the streets.  Bobbi Jo had gone from being homeless to becoming the CEO of an organization that has helped thousands over the last 17 years.
As devastating and heartbreaking as the story of her downward spiral was, her rise out of that darkness was equally compelling.  Her story was both heartbreaking and hopeful.  But most importantly, Bobbi Jo herself exuded incredible strength, courage and grace up there on that stage.  She was magnetic. I had never heard anything so powerful in my life and her story all took place right here in Kansas City.  Afterward I introduced myself to Bobbi Jo and she gave me her book, Beautifully Broken. I went home and told Donna I had found the story we were looking for.
How did production of the documentary film begin?
We read her book and began researching her life.  More amazing stories surfaced and I called her up and said, "Bobbi Jo I'd like to do a test with you and get you on camera.  Would you be willing to talk to us?" She said, "Sure, Honey.  When would you like to come down?"  We set up a time and we went down to Healing House headquarters a week later. That day, Bobbi Jo was interviewing people who wanted to get into her program. This was an eye opener. Sometimes, Healing House has to turn away 100 people a week! Reality began to set in.
Bobbi Jo met our small crew and showed us photos of all of her houses and commercial buildings.  It was an entire community!  She took us to "The Pink House" where it all started.  We had two cameras, a boom, and a lav for the interview. Bobbi Jo started telling her story and 3 hours later we had enough for a mini-documentary.  At that moment, the seed was planted for the film we have today.  Our original plan was to put together a 15 minute documentary to raise money for a theatrical production.  But once we started, we couldn't stop shooting.   The stories kept coming, the people kept coming, and the project grew into a feature length documentary.
Tell us about the team you made this film with.  Why did you choose to work with them?
First, let us say that the Kansas City film community is brimming with talent.  The first person we called was Russ Hadley, a good friend and Director/DP at Third Eye Productions. Russ & I grew up together here in KC working for Bob and Joann Jones (aka my mom and dad) at Jones Productions. Russ was my Dad's assistant cameraman and he was like a big brother to me. We had collaborated on many projects in the past and I knew he loved shooting real people. His specialty is making folks feel comfortable and treating them in a way that makes it easy for them to be genuine.
Russ called Shawn Wright (another great local cameraman and friend) and we all met that first day at Healing house. We shot like mad because Bobbi Jo is a bundle of energy and it was hard to keep up with her.  We searched for crew in the KC Film Office Production Guide directory and found five or six camera operators with their own gear. Beeh Becvar, an ambitious director of photography here in KC, became our 2nd Unit DP, and they rocked!  With an artistic eye and a very professional work ethic, Beeh brought an essential perspective to the overall story. Many other KC camera operators jumped in and helped us keep the momentum going. It was guerrilla type shooting so we subbed people in and out as their schedules allowed.  Devonte Brown, Kevin McKinney, and Barry Wilson shot for us on several occasions and Max McBride did all kinds of incredible work.  I also have to give a shout out to gaffer Bill Thomas, lighting technician Jeff Mundinger, and Max and Sam Thomas over at Lights On Kansas City for illuminating our interviews.
At our basecamp, we relied again on the KC Film Office Production Guide directory to help us find editors.  Early on, we were fortunate to find editors Laine Walters and Secura Hatch, to organize and prep the dailies as we were shooting.  Then, we brought in lead editor, Austin Evans whose talent became immediately apparent. Austin took the reins, along with assistant editors Kahleb McAdams and Diego Astorga, and together the team structured a full length documentary over many hours of digging through footage and transcripts to find the story. Later in the edit, we were introduced to story editor Oli Weiss.  Originally from Germany, Oli has many documentary credits to his name and, fortunately for us, had recently relocated to KC from San Francisco.  Oli came in at the perfect time.  Together with Austin, they restructured some key story elements and gave the film a fresh, new perspective.  All in all, we had many local, talented professionals contribute to this documentary and were blown away by their gifts.  We cannot thank the whole film crew here by name, but we are forever grateful to all of the wonderful folks we worked with.  You can see a full list of film credits here.
How is it to work and film in the Greater Kansas City area?
After working in Los Angeles, I think shooting in KC was a very welcome open door.  Imagine running into traffic, disgruntled neighbors, and noise constraints everywhere you turn in Los Angeles, and then arriving back home to KC where everyone greets a camera crew with a smile. It was an absolute pleasure to shoot on the streets and in and around KC.  Donna and I were used to permits, police, crowd control, and constantly dealing with location issues. Here, we had complete freedom downtown.  The crew was enthusiastic and the people of KC were awesome.  We could not have managed this project without the incredible vibe of the personnel and their overall flexibility.  We rode along with the KCMO Police twice and we were welcomed into people's homes everyday.  The hospitality was incredible.
Keep in mind the subject matter. Everyone at Healing House learns it is about giving back to others. That energy is infectious. When you work in this kind of environment where everyone is getting down for a great cause, things get done, and you can easily overcome problems. I think we all saw what Bobbi Jo had accomplished and knew we had to keep it going. That's just how it works, you follow her lead and lives get changed.
Where can we see Bobbi Jo: Under the Influence?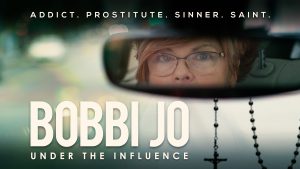 We are screening the film at the Boulevard Drive In Theater on Wednesday, September 16 at 8:00pm.  This will be an exciting event with the cast and crew, so please come out and support the movie.  You can find more information about the screening and buy tickets here:  www.thebobbijomovie.com/screening.  [These are going fast, so get your tickets ASAP!]
What is next for the film?
We are presently negotiating with distributors.  By the time this article comes out, we expect to have a deal in place.  Our goal is nationwide distribution across all platforms such as iTunes, Amazon, etc.. It will take a few months to deliver the movie elements to the distributor, and then we will be launching the film on VOD by January. The film has also been submitted to film festivals across the country.  The best way to stay updated on the movie's release is by following us on Facebook and Instagram at:
www.facebook.com/thebobbijomovie
www.instagram.com/thebobbijomovie
What's next for Brent and Donna Jones?
We loved the documentary process and are currently looking for another story to tell.  This has been such an amazing learning experience.  Every minute of the process has been both challenging and rewarding.  We hope to build upon that growth, and keep the momentum going.   In addition, we have been approached by several producers about making Bobbi Jo's life story into a theatrical film. This involves getting a great script first and we are already taking steps to make this a reality.  We look forward to our next project, and for another opportunity to work in the Kansas City film community.
—
Brent and Donna, thank you for sharing with us this month. We are excited to see your film and to support this project and all of those that come after. Kansas City is lucky to have you back here creating!