KC FILM SPOTLIGHT: Courtney Hopkins & JoJo Moynihan
There's something special about the hit DIY Network series Bargain Mansions. Actually, there's a lot that's special about it. First, the successful home renovation series is filmed entirely in Kansas City. The city has seen its fair share of television coverage; whether it's network, cable or streaming, you don't have to look too hard to find Kansas City on your screen. But to film an entire series here is rare. That's not all, though. Bargain Mansions isn't just filmed in Kansas City, it's made by Kansas Citians. From conception through creation, this series is produced entirely by local KC crew. Even its host, Tamra Day, is a local.
Among the talented individuals creating this true Kansas City series are Courtney Hopkins and JoJo Moynihan. The producer and associate producer pair are currently finishing up filming the series' second season, slated to premiere on the DIY Network this fall and HGTV in the spring. In the midst of all the filming, construction, and coordination, Courtney and JoJo took the time to talk with KC Film about their backgrounds and what it's like to work on such a complex and uniquely Kansas City show.
1.  What are your titles and responsibilities on Bargain Mansions?
CH:  I am the producer. I work with my amazing team (quite a few of which are more
amazing 'women in film') to organize the contractors, designers, and make sure we're
getting all the extra footage we need between full crew shoot days. I keep track of what
we've shot, what needs to be shot, and when the houses need to be completed.
At the end of the day, I feel like I'm just keeping all three facets of the show connected:
story, design, and construction.
JM:  I am an Associate Producer. I manage a lot of the back-end tasks for production. This includes
hiring crew, finding and releasing locations for off-site shoots, creating schedules, keeping field
notes for post-production, and organizing our legal documents. I also spend a lot of time on the
phone.
2.  Could you describe your background and experience in the industry?
CH:  I have been bouncing between news, commercials, documentaries, feature films,
and reality television for the last decade. I had a few great internships in college, and
lived in South Africa for three months during my senior year as I worked on a
documentary that is still in production. I have always had an interest in film and TV, but
my shift to being a producer was gradual. I've been a camera op, editor, and director,
and found I just sort of enjoyed doing a bit of everything and really enjoyed keeping
everything organized.
JM:  After leaving school, I was working a service industry job that I was far from happy with. That
made me reach out to an art director, who I had "interned" with for one day in high school. He
remembered me and brought me on for a shoot, and afterward I started working as a
production assistant mostly for ads. I moved up to coordinating and eventual ran across my
current boss, who was looking for a coordinator for a new KC-based series. During the first
season of Bargain Mansions, I was promoted to Associate Producer. I'm really thankful to have
started in Kansas City, and to have been mentored by so many people in this industry.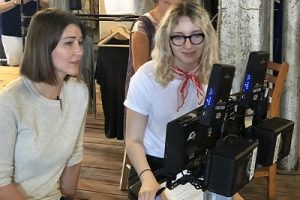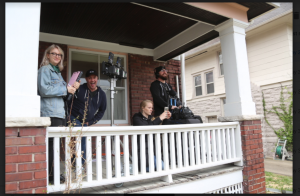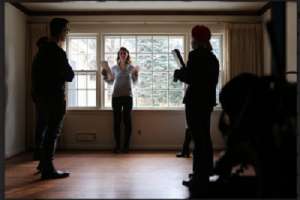 3.  Had you ever worked on a renovation based reality series before, and how would you
describe the differences between producing Bargain Mansions vs. other reality shows?
CH:  I had not worked on a home renovation show before. The main difference is that the
construction really adds an element of "absolutely cannot be planned". Here in the
Midwest, where the weather is so unpredictable, it is easy to get behind schedule. We
can write and plan and hope for the best, but if it rains for four weeks, there is nothing
anyone can do about it.
JM:  I've worked on a few odd home shows, but never a build show. I underestimated the amount we
would rely on construction. On many other reality shows, the scenes can be planned and shot all
in the same week. We're working with a moving set; we can't shoot last-stage finishes before
they happen in real time, and we can't go back a stage if we've missed something. Overall this
makes scheduling challenging.
4.  Bargain Mansions is a true Kansas City TV series – what does that mean to you?
CH:  I think it is so exciting that there is a 100% home-grown KC show airing on network
television, that is staffing KC natives right now. Matt Antrim, our Executive Producer,
is a KC native that and came up that came up with the concept for the show. Our
production crew is entirely made up of KC natives (save the post department,
stationed in LA), and the host herself lives here with her family.
JM: We're so happy to shoot entirely in the KC area. We have an entirely local film crew, and we get
to work with and feature a lot of great local businesses
5.  Are there any benefits to filming in Kansas City you think might surprise people?
CH:  There seems to be an endless supply of insanely creative and talented people in
niche industries here. We take our host off site on "field trips" every episode and we
have the hardest time narrowing down who we'll feature. So many great companies
have allowed us to bring our (large) crew to their shops and shoot Tamara helping
build and create so many interesting things.
JM:  KC is a great place to shoot. We have a strong local industry, and the larger community is so
supportive. People are excited to see series being shot here, are so willing help us in providing
locations, helping to find vendors, etc. That doesn't exist in larger markets.
6.  What about working on Bargain Mansions have you found to be the most rewarding?
CH:  I mentioned the amount of coordinating that is done, so for me the most rewarding
part of the show is seeing everything come together on a shoot day. They can be long
days, but I cannot speak highly enough of our crew and host, and how hard everyone
works to pull off some crazy schedules.
JM:  I really enjoy getting to work with smart, creative people. Production is a puzzle that challenges
us to come up with solutions quickly, and shift and turn to get the pieces together. It's so much
more interesting than a nine-to-five.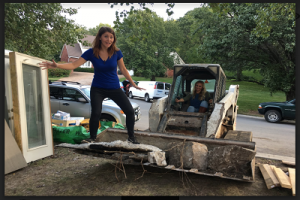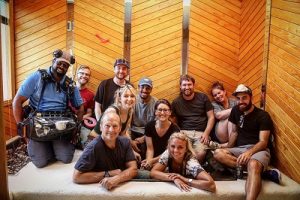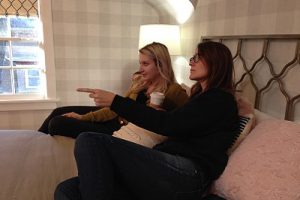 7.  What inspires you in your careers?
CH:  I am inspired by the hard work of my peers. Everyone works hard on "bread and
butter" productions, and then leaves work to continue working on their passion
projects. There is such a community in Kansas City where I see people helping with
other projects and building each other up.
JM:  I'm inspired to be in a community and position that encourages me to grow in this industry and
as a creative. I've had the privilege to be mentored by some great producers, and I've learned to
do things I once thought were impossible.
8.  Do you have any advice for young people trying to pursue a career in television?
CH:  Nobody cares what college you went to. We care if you can stay calm and level
headed in stressful situations.
JM:  Contact the people that have the jobs you're interested in. A short, kind email seeking only
advice or a cup of coffee is usually well-received and can do amazing things. Locally, the
Production Guide can point you to hundreds of KC crew, and IMDB will show you the people
who make your favorite shows. On set, learn everybody's names (they will be on the call sheet).
9.  And perhaps most importantly, when will we be able to see Season 2? Can we still watch Season 1?
CH & JM:  You'll be able to watch Season 2 on DIY Network this fall and HGTV this spring. The
official time and day will be announced by the network soon! People can still watch
Season 1, either on Amazon or you can catch reruns on DIY.
Courtney and JoJo, we can't thank you enough for sharing your reflections and insights. Kansas City is proud to have a series like Bargain Mansions call it home. We can't wait to see what's in-store for us next season.