Sundance Film Festival 2019 – KC, Missouri and Kansas Connected Projects
#1   "Crude Oil" – U.S. Narrative Short Film Category
Written/Directed by Christopher Good; www.christophergood.net
Crude Oil is a film by Lenexa resident Christopher Good and is the first Kansas City filmed project accepted into the prestigious Sundance Film Festival in several years. Christopher and his teams have made creative and cutting edge films and music videos that have garnered accolades and national attention. This film is a fifteen-minute short shot in and around the Kansas City metro. According to the Crude Oil page on the Sundance website, Crude Oil is a story where "Jenny breaks free from a toxic friendship and learns to harness her magical, useless superpower." IndieWire describes the film as a "laugh-out-loud film about a toxic friendship further strained when deepest secrets are revealed…resulting in mayhem that's weird, wacky and wonderful."
Full IndieWire Article – Sundance 2019 Short Film Preview: 10 Must-See Gems
Full Medium.com Article – Sundance-Bound Filmmakers Pack Big Ideas into Short Films
Link to "Crude Oil" – Sundance Page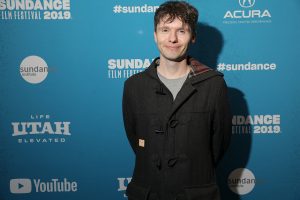 Credits:
Director/Screenwriter: Christopher Good
Producer: Andreina Byrne
Director of Photography: Jeremy Osbern
Sound Design/Mix: Danny Bowersox
Production Designer: Sinjun Strom
Costumes: Sarica Douglas
Music by: Matt Hill
Executive Producer: Jeremy Osbern
Production Asst: Ryan Bowersox
Colorist: Stephen Deaver
Principal Cast: Andreina Byrne / Tipper Newton / Josh Fadem
#2 "Love, Antosha" – Documentary Premieres
Director/Editor: Garret Price
We learned that a highly anticipated documentary premiering at Sundance had Kansas City ties. One of the co-producers of the film, Jordan Krause, is from from Lawrence, KS and now lives in
Los Angeles. When we met Director Garret Price after the screening at Sundance we learned his grandparents reside in KC. Rolling Stone named the film one of their twenty-five 'Can't Wait to See at Sundance' films and describes the film,
He was just a little kid, the son of Russian ice skaters who decided to emigrate to Los Angeles – but even then Antosha "Anton" Yelchin had a knack for performing in front of a camera. This bio-tribute to the late actor follows his path from his early interest in movies and music to making a name for himself as a rising star to his unfortunate death in a freak accident at the age of 27. Everyone from his parents and boyhood friends to most of the cast of Star Trek attest to Yeltchin's relentless creativity (despite the fact that he'd been diagnosed with cystic fibrosis at an early age) and ability to inspire everyone around him.
Link to full Rolling Stone Article – 25 Movies We Can't Wait to See at Sundance 2019
Read – At Sundance, powerhouse documentaries will be everywhere
Read What Not Doc article – 2019 Sundance Docs in Focus: Love, Antosha
Link to "Love, Antosha" Sundance Page
#3 "Bootstrapped" – Indie Episodic
Creator: Danielle Uhlarik, Director: Stephanie Laing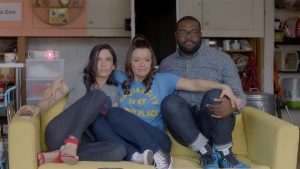 Part of the newer Indie Episodic program at Sundance, this pilot follows underdog entrepreneurs and best friends Madeline and Aimee as they struggle to be taken seriously while getting their killer fashion app off the ground. What's the KC connection? The duo is based out of a rented garage in their humble Midwestern hometown of Kansas City.  Though the pilot was not filmed in KC, we would welcome a series like this comedy that is set here to film here and benefit from our authentic friendliness and our cellular-level love for Kansas City.
Link to – "Bootstrapped" Sundance Page
#4, 5, 6  Megan Evans trifecta
Megan Evans is a Kansas City native Costume Designer. She worked on the Kansas City-filmed indie All Creatures Here Below in 2016 and she is in KC as much as she can in between jobs. Megan worked as Costume Designer on three Sundance films this year:
#4 Extremely Wicked, Shockingly Evil and Vile – Premieres
Director: Joe Berlinger, Cast: Zac Efron, Lily Collins, Haley Joel Osment, Kaya Scodelario, John Malkovich, Jim Parsons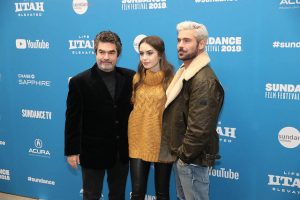 This film is the story of Liz Kloepfer, the woman who shared a life with Ted Bundy, shattered by the revelation that her charming live-in boyfriend was a serial murderer. The reviews of the film are strong with emphasis on Zac Ephron's performance as Bundy. Familiar to Kansas City are the film's Line Producer, Chris Stinson, and Co-Producer, Amy Greene, as well as several other All Creatures team members (like Megan Evans) who filmed independent feature All Creatures Here Below [hear them talk about working in KC] in Kansas City in 2016. We were able to visit with them while at Sundance and meet other members of their movie-making group who made this film a reality.
Link to – "Extremely Wicked, Shockingly Evil and Vile" Sundance Page;  Link to – Indiewire Review  
#5 The Sound of Silence – U.S. Dramatic Competition
Director: Michael Tyburski, Cast: Peter Sarsgaard, Rashida Jones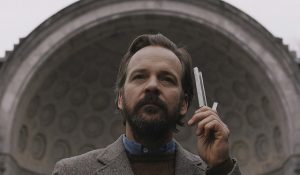 Two Missouri connections here – Megan Evans is from KC, and star of the film Peter Sarsgaard graduated from Washington University in St. Louis. The film centers around Peter, a scientist and "house tuner" who works to calibrate items that culminate into the din of our home surroundings in order to ease his clients anxiety, depression and fatigue. It's a fascinating premise and the film makes you really listen to life after leaving the theatre.
Link to – "The Sound of Silence" Sundance page
#6 Halston – Documentary Premieres
Director: Frédéric Tchengs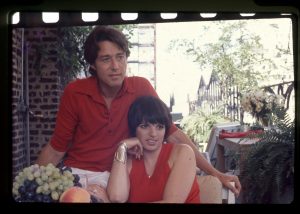 Megan worked on the reenactment scenes in this documentary film about legendary fashion designer, Halston, who is considered the first real designer celebrity.
Link to – "Halston" Sundance page
#7  Stay Close – Documentary Shorts
Directors: Shuhan Fan/Luther Clement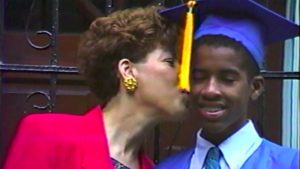 Directors Shuhan Fan and Luther Clement both came out of the Northwestern University documentary media program, but Luther Clement was raised by schoolteachers in Lawrence, Kansas and former internationally competitive fencer himself. This short doc is an underdog story about a Brooklyn fencer on the road to the Olympics.
Link to – "Stay Close" Sundance Page
#8  The Report – Premieres
Director: Scott Z. Burns; Cast: Adam Driver, Annette Bening, Jon Hamm, Ted Levine, Maura Tierney, Michael C. Hall, Jennifer Morrison
The Missouri connection to this film is, of course, the actor from St. Louis, Jon Hamm. We see him from time to time at the Big Slick helping raise money for Children's Mercy Hospital in KC, but we all know he's a Cardinals fan through and through. Another connection is actress Jennifer Morrison. She appears in the KC-filmed feature All Creatures Here Below. (It's like six degrees of All  Creatures!)
Link to – Indiewire Review of The Report
Link to – "The Report" Sundance Page
#9  Memory-The Origins of Alien – Midnight
Director: Alexandre O. Philippe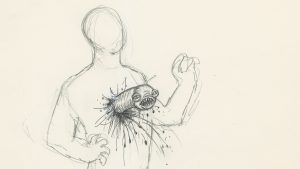 Our connection to this film is the subject, the late great Dan O'Bannon, and Executive Producer, Diane O'Bannon his wife who are from St. Louis, Missouri. O'Bannon had a vision for and wrote a script called "Memory" that ultimately becomes the Ridley Scott masterpiece Alien. Director Alexandre O. Philippe brought us the documentary 78/52, about Hitchcock's Psycho shower scene, which screened at KC Film Fest International last year.
Link to "Memory-The Origins of Alien" Sundance Page 
#10  Relive – Premieres
Director: Jacob Estes; Cast: David Oyelowo, Storm Reid, Mykelti Williamson, Alfred Molina, Brian Tyree Henry Shinelle Azoroh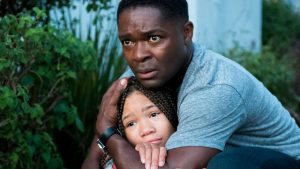 The connection to us on this film is Celine Diano. Celine is the Production Designer, who was also the Production Designer on All Creatures Here Below filmed in Kansas City in 2016 and we are hopeful for a Kansas City premiere in April at Kansas City film fest. This film is part mystery part supernatural thriller and it is a fun ride.
Link to – "Relive" Sundance Page
#11 Tigerland – U.S. Documentary Competition
Director: Ross Kauffman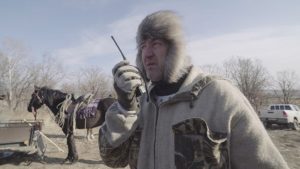 Another six degrees of KC filmed feature All Creatures Here Below, is a film from Fictionless, where Associate Producer of All Creatures, Nicole Galovski, has landed. The film by Academy Award winning director of Born Into Brothels, Ross Kauffman, takes the audience on the lifetime journey of those that work passionately to preserve the fate of the tigers of the wild in India and Russia.
Link to – "Tigerland" Sundance Page
#12 The Mountain – Spotlight
Director: Rick Alverson; Cast: Jeff Goldblum, Tye Sheridan, Udo Kier, Denis Lavant, Hannah Gross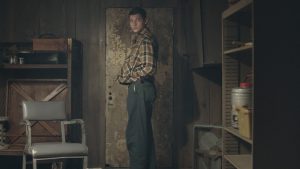 The Mountain premiered at Venice Film Fest and nabbed a Spotlight at Sundance as a dark winding tale of a young man and a famous lobotomy performing doctor played by Jeff Goldblum. The Producer, Allison Rose Carter, and Co-Producer, Jon Read, are familiar to us through their road film, American Honey, partly set and partly filmed in Kansas City, by Academy Award winning director Andrea Arnold, starring Shia LaBeouf.
Link to – "The Mountain" Sundance Page
Link to The Hollywood Reporter review of "The Mountain"
#13 Honey Boy – U.S. Dramatic Competition
Director: Alma Har'el; Cast: Shia LaBeouf, Lucas Hedges, Noah Jupe, FKA Twigs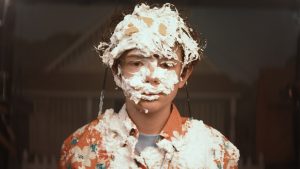 Written by Shia LaBeouf may be a look into the past of this extraordinary and controversial actor. Our connection is that Shia was the star of American Honey that filmed partly in Kansas City in 2015 and won the prized Jury Award at Cannes Film Festival in 2016. This film is about the relationship a young man who becomes a Hollywood star experiences with his father. The audience witnesses raw performances runpacking the effects of abuse and attempts to heal and forgive. It is interesting to watch this autobiographical film, as LaBeouf portrays an image of his own father.
Link to – "Honey Boy" Sundance Page
Link to The Hollywood Reporter review of "Honey Boy"