Missouri Film Industry Education Mission to Georgia
                    
Missouri Film Industry Education Mission to Georgia
MOMMA and KC Film Take Legislative Influencers to a "Missouri" Set in Georgia
By Steph Scupham | KC Film Office
What does $6 Billion in economic impact from the film industry look like? That is what two Senatorial Chiefs of Staff and I learned on a film education trip to Georgia June 25-27, 2017 sponsored by Missouri Motion Media Association (MOMMA) and KC Film Office with itinerary advice from Missouri Film Office. The overall purpose of the trip was to take in a large working-set, experience the impact of film tourism and learn about film infrastructure on a studio tour.
Part of the inspiration for this trip came in 2016 at the Association of Film Commissioners International (AFCI) Cineposium conference in Georgia where sessions included a panel with Steve Mensch from Tyler Perry Studios and a film tourism off-site in the town of Senoia, the filming location for AMC's The Walking Dead. Georgia Lt. Governor Casey Cagle addressed the visiting Film Commissioners and reported the impact of the film industry to Georgia's economy at $6 Billion. The final inspiration came from an invitation to visit the set of the HBO show Sharp Objects in Georgia. And with that, I invited members of Missouri State leadership to accompany me on an educational trip South.
Senator Denny Hoskins' Chief of Staff Rachel Bauer, Rachel's husband Chris Bauer of Missouri Department of Transportation (not on the trip in a professional capacity), and Senator Bill Eigel's Chief of Staff Jacob Scott were able to join me.
Set Visit – HBO Sharp Objects in Barnesville, GA
The four of us visited the set of HBO's Sharp Objects, a new television series set entirely in Missouri, but not filmed here.
Upon arriving to the set in the small town of Barnesville, Georgia, we were immediately blown away by the town's transformation into "Wind Gap, Mo." It was an immersive transformation from banners to store signage, murals to historic land markers and even fliers on bulletin boards. Anyone who will see this on HBO in 2018 will wonder where in Missouri Wind Gap is—they'll have no idea it's Barnesville, Georgia.
We met key persons and decision makers for the project including star and Producer Amy Adams, Director Jean-Marc Vallee (Big Little Lies, Wild, Dallas Buyers Club), producer/writer Gillian Flynn (Gone Girl), producer Nathan Ross, producer Jessica Rhoades, line producer/UPM David Auge (True Blood, Westworld), production designer John Paino (The Leftovers, Big Little Lies, Wild) and location manager Greg Alpert, our host (Minority Report, Frost/Nixon, The Hangover Part III, Big Little Lies).
Each time we met someone new they expressed they wished they were filming in Missouri. Rachel Bauer put her reaction into a words saying, "Outside of the obvious tremendous, positive economic impact, both at a local and state level, the most striking takeaway for me…the consistent, yet sincere message from everyone we met related to the filming of "Sharp Objects" was their desire to film it in Mo., but that the incentives in place in Ga. were too good to pass up. A few decision makers even said that if we had just had something, even if it wasn't as generous as Ga., they would be filming a Mo. story in Mo."
Important information we received from our encounters included:
Production spend was $300,000-350,000 per day in Georgia
Money spent outside of production spend – shopping, patronizing restaurants, going to baseball games, enjoying nightlife (things leisure travelers do) was abundant
The production would like to film in Missouri in future seasons
This is economic impact that could have benefited the State of Missouri if our state was open for business. Jacob Scott's reaction was that educating our state is key stating, "It was a great experience to visit the set and spend time learning about how well things are working for Georgia as it relates to the film industry. I can't help but think that folks in Missouri, especially our elected officials need to know how well Georgia is doing in competing for dollars from this industry."
More than anything else, our guests realized that "Hollywood" is made up of more than just the big, household names you see emblazoned on screens both big and small. It truly takes a whole village, from carpenters to set designers to makeup professionals to drivers — and every other imaginable job in between.
Chief of Staff Rachel Bauer agreed with one of the local location managers when she recalled,
[Taylor Dodd] spoke about how positive this is for the local culture and especially the youth to have exposure to the film industry like what was happening in Barnesville. It makes those jobs real and attainable. It also brings about commonality and connectivity among people of varying experiences/ways of life and can change stereotypes. As a mother of young kids who live in a rural town, that perspective is appealing.
Jessica Treska (Actor), Steph Scupham, Greg Alpert (Location Manager), Jean-Marc Valleé (Director). Rachel Bauer, Chris Bauer, Jacob Scott
Barnesville recently created a Film Tourism board to optimize the tourism opportunity from Sharp Objects filming in their city
 Excerpt from "Wind Gap, Mo." Facebook Page (administered by Barnesville Lamar Chamber of Commerce) –
Exciting news, Wind Gap! The murals have been restored to their original beauty and guess what… The Market Street mural will permanently say "Welcome to wind Gap, Missouri" and serve as the "selfie spot" and part of the promotion for our new Film and Tourism Board being developed. Exciting times ahead!
Film Tourism Experience in Senoia, Georgia – Home of "The Walking Dead"
We saw a production taking place, but what about after the fact? Senoia, Georgia demonstrated this with near-perfect results. The entire town has been transformed thanks to AMC's The Walking Dead, making it living proof of the vitality of film tourism and the impact it can have on a community.
Senoia's entire industry is built on The Walking Dead, from restaurants and shops to film tours that attract visitors from across the country. While even the biggest of film or television productions wouldn't entirely be the Missouri or Kansas City tourism draw, it would certainly be a tourism and economic boon for a small town and add a tremendous component to our entire destination.
We learned that tours occur seven days a week, multiple times a day. The tour owner, Julie, from The Georgia Tour Company said her tour revenue is not counted in the state's economic impact reports on film.  Chief of Staff, Jacob Scott remarked, "These projects can bring communities together and help those communities take on a new meaning. Barnesville [like Senoia] has something to showcase!"
We saw examples of how the production invested in the town outside of production spend. For lunch we ate at Nic & Norman's, a restaurant owned by the show's Director, Greg Nicotero and one of the cast members, Norman Redus, who plays Daryl Dixon. In addition, they have purchased homes nearby and many crew people have moved to the Senoia area to work on the show.
Film Infrastructure – A Tour of Tyler Perry Studios
 We've seen jobs in action, direct economic impact, the impact of tourism and next we look at a brick and mortar facility, the new Tyler Perry Studios on the grounds of Fort McPherson.
We were honored to be given a personal tour with Steve Mensch, the President and GM of Studio Operations who is considered one of the most influential people in the film and TV industry in Georgia.
Takeaways from the tour:
Facilities like these incur costs for operation like utilities, staff, security and property taxes
Every area and building has been maximized as a potential location for filming
Fort McPherson was closed due to the Base Realignment and Closure (BRAC) law, Perry turned that into an opportunity to preserve history and create new use
New construction includes city-blocks, suburban neighborhoods, mansions and 12 new fully functioning sound stages which go live rolling out September 2017
The major overhauls and new construction provide a boost to the local and state economy, as Chief of Staff Rachel Bauer put it, "The construction going on at Tyler Perry Studio is UNBELIEVABLE! Think about the economic impact of that alone on that economy right now!"
Outcome
Missouri has seen recent interest from the film and television industry as evidenced by the new NETFLIX show OZARK and the upcoming HBO series Sharp Objects by Kansas City author Gillian Flynn. It would seem natural that a film or television show set in Missouri would film in Missouri (most directors would prefer to film in an authentic location) but that isn't how the business of manufacturing entertainment functions. With the Missouri film incentive bill having sunset in 2013 we are one of a handful of states without a program standard to the business of manufacturing entertainment. Currently 34 states + Puerto Rico and the U.S. Virgin Islands have programs – 17 of those are rebate or grant based, 9 are transferable tax credits, 7 are refundable tax credits, 2 are transferable or can transfer to the state at discount and 2 are refundable or transferable. *
Both OZARK and Sharp Objects filmed in Georgia for Missouri. Georgia has a sustainable film industry and one of the top film incentive programs in the country with a 20% transferable tax credit and a 10% uplift for promotion. How can we learn from them to be the best Missouri we can?
Georgia alone has seen $6B come from out-of-state money that doesn't require much investment outside of the incentive. (Most new money such as job creation, requires significant burden of state aid in the form of new education dollar expenses, etc.)

– Jacob Scott, Chief of Staff Senator Bill Eigel, Missouri 23rd District
We will continue to work together across the state to educate and involve Missouri Legislators. Missouri has so much to offer and has been under seen on screen. We want our state to be open and ready for manufacturing entertainment to benefit all of Missouri with job creation in a high-tech field, sustaining our workforce, retaining graduates from the 38 Film and Digital Media programs across the state and add to the direct economic impact to communities. Opening for business can only mean opening doors for our future. We agree with Chief of Staff Jacob Scott when he says –
I think as a state government there is going to be serious discussions in the coming year or so about how we are going to handle the tax burden and tax credit liability the state has incurred over the past couple decades. I think something like this can certainly be part of the discussion as to whether it is something the state should be prioritizing as these conversations come to a critical mass…I don't believe the climate for tax incentives or tax credits is good in Missouri right now. I think for these projects to get serious attention from legislators will take an educational effort on behalf of the MO Film Office, KC Film Office, [MOMMA] and the Department of Economic Development to simply let legislators know how well places like GA are doing.
A film education trip like this one is part of a larger strategy. We are on a mission to educate and advocate! Please become an active part of it by joining MOMMA, following MO Film Office and KC Film Office.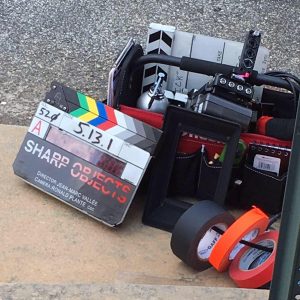 Missouri Motion Media Association (MOMMA) was created in 2006 to unify the industry, provide a united voice on legislative issues that affect manufacturing entertainment, provide access to job opportunities and production alerts, and give opportunities for networking and education. Your membership in MOMMA allows us to sponsor trips like the one in this article and hire a lobbyist to work on our behalf. To become a member as a student, individual, company or single donation – click here for more information | MOMMA Facebook
Missouri Film Office was created in 1983 to attract film, television, and video productions to Missouri and to promote the growth of the film and video production industry within Missouri. It is a part of the Missouri Division of Tourism. For more information, go to  www.Mofilm.org.  Missouri Film Office Facebook | Missouri Film Office Twitter
KC Film Office leads Kansas City metro's efforts to attract film, television and new media productions to the community. A division of Visit KC, the Film Office focuses on three core priorities:  production assistance, project recruitment and industry support. For more information, go to www.FilminKC.com. KC Film Facebook | KC Film Twitter | KC Film Newsletter signup (scroll down)
*Source: CastandCrew.com – May 2017 http://taxes.castandcrew.com/production_incentives_map/documents/33+TIP+Map+Flyer+MAY2017+r3.pdf