Identifying and Avoiding Check-Cashing Scams
Over the last year, we have had dozens and dozens of reports from the Kansas City crew base that they are dealing with scammers. There is a wide-spread check-cashing scam targeting people all over the country and now our crews.
According to information we have harvested from Kansas City crew members, scammers will send a text like this: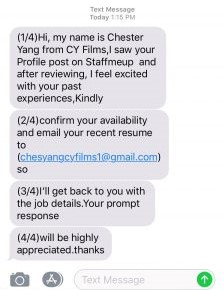 or an email that says something like this:
"I'm Micheal Cole affiliate producer for Mandarin Films, I saw your profile posted on  lany411.com, Its a pleasure to inform you about an upcoming short film project in your area Titled (Pained) Start date: December 18th – 22nd, pay is $2000 we are in need of Producer  kindly reply with your updated resume for more consideration thank you have a great day."
What they are attempting to do:
These scammers are finding contact information from public databases like Staff Me Up, Craiglist, KC Production Guide or other similar sources hoping to engage by email or text (often with grammatical errors).
When they target the film industry, they position themselves as a production company or a producer interested in hiring for a film, television or commercial project.
The project is vague.
Scammers often claim to be with a company from out of the country. The company information is vague. Or it is a REAL company and the scammers are using their name.
The scammer will ask for a resume and more information about you.
The scammer will offer attractive rates (often more $ for a rate than normal).
The scammer will offer to send a check and ask that you deposit it in your checking account.
The scammer will ask you to wire money back to them. Or the scammer may ask you to wire them the remainder of the money that you spent on buying a few items for the "job".
In a week or so, the check the scammer sent that you deposited bounces.
You are on the hook for that money to your financial institution, even if it is a counterfeit check.
Keep in mind:
If it sounds too good to be true, it probably is.
It is possible they could have legitimate-looking websites.
If ANY production company sends you a check for any amount to deposit into your personal bank account BEFORE they interview or properly HIRE you, DO NOT DO IT.
Contact KC Film Office to ask if the production has registered and if we are aware of the project.
Learn more about these scams:
http://needlegirlhaystackworld.com/scam-alert-johann-martinez-production-assistant/
Fraud.org – Fake Check Scams
Better Business Bureau – How Fake Check Scams Bait Consumers
Consumer Fed – Check Scams